Select your version of ArcMap:
Download the GIS Resources Python Add-in for ArcMap 10.1
Download the GIS Resources Python Add-in for ArcMap 10.2
Download the GIS Resources Python Add-in for ArcMap 10.3
Download the GIS Resources Python Add-in for ArcMap 10.4
(any donations go towards hosting costs)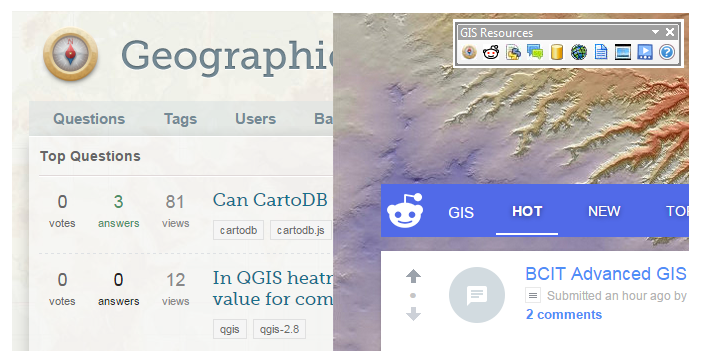 The GIS Resources Python Add-in adds a toolbar full of useful GIS resources to ArcMap. When you click on one of the buttons, it opens the website in your browser for the resource that was clicked.
If the toolbar didn't automatically add to ArcMap, go to Customize –> Toolbars –> and click on GIS Resources.

Current GIS Resources:
GIS Stackexchange
/r/GIS
ArcPy Documentation
ESRI Forums
Free GIS Data
ArcGIS Online
ESRI UC Paper Sessions
ArcGIS Blog
ESRI Videos
If you'd like an additional GIS Resources added to the toolbar, just leave a comment below!
Check out the following guide to add or remove a button, or add a keyboard shortcut for a button:
Tutorial On Customizing ArcMap Toolbars and Keyboard Shortcuts
I hope you find this tool useful. Please leave a comment if you have any questions or problems, and be sure to check out the other tools I've created!